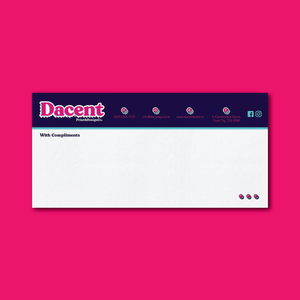 Compliment slips have a wide range of uses, from attaching a personal note to clients, adding a personalised message to an order, or apologising for a mistake to business associates. They are a great way of expressing your gratitude and saying a personal 'Thank You' to clients and business contacts.
Compliment slips convey a professional message to customers and enhance your brand image.
A printed compliment slip contains your business logo and contact information allowing customers to connect with your business quickly and easily.
Compliment Slip printing services:
The highest level of quality and finishes
Our Compliment slips are the perfect product to accompany your letterheads
If you have any queries, or would prefer to talk to someone before you print compliment slips, please call us on 021 2067772