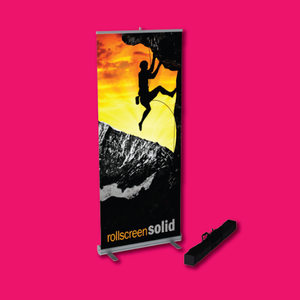 Event prep just got easier.
The stand comes complete with printed graphics and padded carry bag. Roll-up stand suitable for short term to medium term use. Ideal for conferences, meetings, displays or sales promotions.
Designing an effective banner
• Use large fonts and images so people can see your banner from a distance
• Contrast your background and text colours to increase legibility
• Focus one main message that people can understand quickly
The roll-up banner does indeed do what it says it does – it rolls up, it displays a message, and when all is said and done, it's easy to store away and transport to the next event. It's simple but it's incredibly effective.
Roll Up Banner Size: 2150 x 850 mm